The key for your organization to thrive is to be cohesive, aligned & profitable at the same time.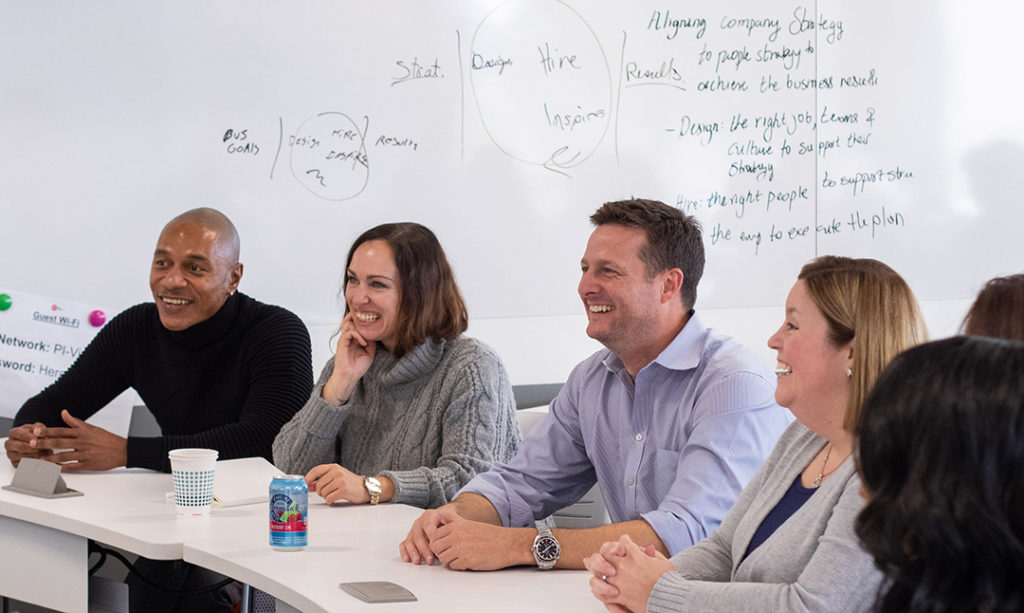 With so many changes constantly taking place, it's no wonder your organization struggles through the transitions. Your leaders struggle to connect purpose and profit through consolidations, technology changes, regulatory pressures, and workforce shortages… which creates tension between your mission and your very real need to keep a healthy bottom line.
At the end of the day, your people are pulled in so many different directions and are jumping through so many hoops that they're hungrier than ever for someone to LEAD them toward successfully fulfilling your mission while maintaining a profitable business.
That's where we can have such a profound impact on your leaders and teams. Our programs show the leaders in your organization how to cultivate a thriving, magnetic culture with engaged employees who are driven and aligned with your mission.
Featured Workshops and Sessions
Build Effective Cohesive Leadership Teams
This is the offsite workshop program designed to empower your senior team to lead effectively, no matter what leaderships skills they do or don't have today. Your audience will:
Engage in leadership assessments to raise their awareness of their own leadership style and the team they work in.
Use a team collaboration model to do things like build trust, teach them how to deal with conflict, how to get to commitment and accountability, align their efforts with the results that the organization needs.
Discover how to operate as one team as opposed to having separate leaders for each function.
Engage People and Drive Accountability for Results
This workshop is designed to help your leaders cultivate an engaged team that works cohesively toward specific goals. Your audience will discover:
How to engage people to change – by engaging them for a specific reason – to deliver specific results.
How to tap into the discretionary effort of each employee, make those people feel like they have ownership in the organization, and engage in their work.
Foster Thriving Cultures
This program is designed to shed light on your organization's cultural strengths and help you develop a collective vision for what your culture should be. Your audience will:
Create the plan to bring your vision to life
Discover how to tie the vision to the business strategy.
Understand how to communicate the vision and mission and get buy-in from each employee so they're engaged in the process and all moving toward the same common goal.
Why People Leave: Decoding the Engagement Challenge
Engagement isn't about being happy. It's about an emotional commitment to an organization and its goals. Companies with highly-engaged employees achieve a higher profit margin, shareholder returns and productivity as well as lower turnover, fewer safety issues and less absenteeism. Yet 98% of CEOs aren't paying attention to engagement data and only a little more than half of all companies have some sort of engagement "strategy". While survey data and action plans can help, more is needed to have a real and lasting impact. Real changes in engagement must happen at the individual and group levels. This session shows leaders and managers:
The work environment pressures impacting engagement such as job fit, manager impact, team dynamics and culture.
How individual behavioral styles and drives can vary requiring different approaches.
Ways you can understand and increase engagement and keep your best people.
A deeper understanding of one's own management style and how it may influence engagement.
These are examples of workshops designed to build more effective leaders and managers and more engaged cultures. Programs can be tailored to meet the specific needs of your organization.
Predictive Index Workshops:
These workshops are designed specifically for clients who are utilizing the powerful insights of The Predictive Index to hire the right people, inspire them to engage and produce and to strengthen their leaders and managers. Learn more about Predictive Index and the power of Talent Optimization. Take a free PI Assessment using the link on the side bar of this web page and check it out for yourself.
Driving Results with Talent (two-day workshop)
In this 2-day course participants will cover the four aptitudes of talent optimization, learn how to utilize talent data insights to understand what drives employees, and apply The Predictive Index's data-driven hiring approach to build high-performing teams and a positive culture.
This 2-day workshop provides a deep understanding of the Predictive Index (PI) and Talent Optimization. Participants learn how to utilize talent data insights to understand what drives employees and how to apply PI's data-driven approach to hire the right people, build high-performing teams and foster a thriving culture. In our client group sessions, you will use actual PI reports from your leaders to discuss application and insights while you learn more about how to get the best from PI to propel your business and culture forward.
Managing People to Perform (one-day workshop)
This intensive one day training looks at PI first through the lens of self-awareness (what does the PI say about me?), then focuses outward (what does the PI say about my team?), giving managers tools to adapt to the individuals they work with to increase engagement and achieve results.
Contact us to create the culture & leadership your organization needs to thrive. Call (516) 637-6095 or e-mail drivenburgh@strategic-imperatives.com.