The key for your organization to thrive is to be cohesive, aligned & profitable at the same time.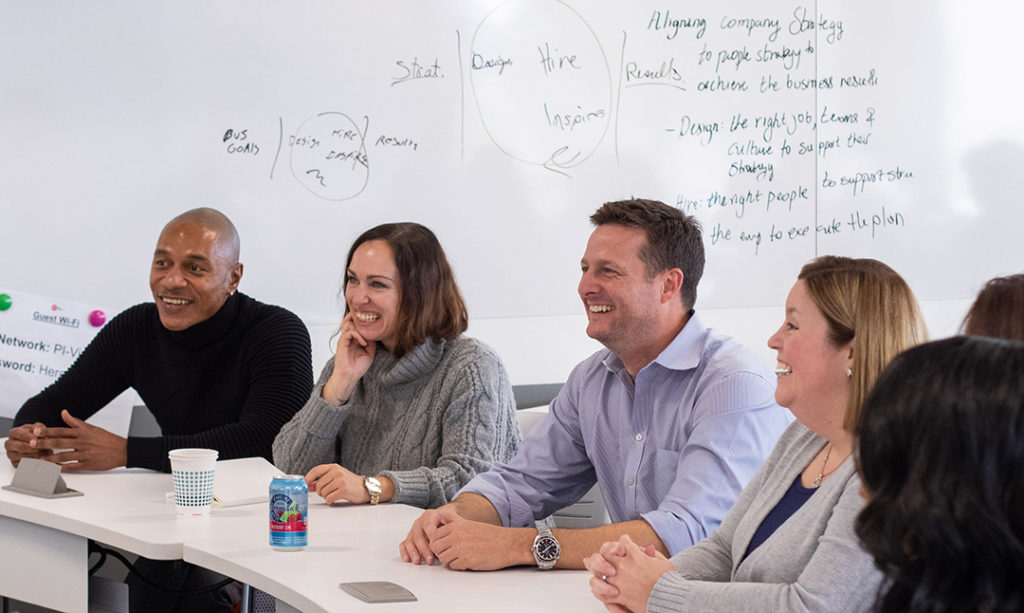 With so many changes constantly taking place, it's no wonder your organization struggles through the transitions. Your leaders struggle to connect purpose and profit through consolidations, technology changes, regulatory pressures, and workforce shortages… which creates tension between your mission and your very real need to keep a healthy bottom line.
At the end of the day, your people are pulled in so many different directions and are jumping through so many hoops that they're hungrier than ever for someone to LEAD them toward successfully fulfilling your mission while maintaining a profitable business.
That's where we can have such a profound impact on your leaders and teams. Our programs show the leaders in your organization how to cultivate a thriving, magnetic culture with engaged employees who are driven and aligned with your mission.
Most workshops can be presented as virtual or in person sessions.
Featured Workshops, Webinars and Sessions
Leading through Change
Leading through Change addresses two of the most critical parts of a business during a downturn: strategy and workforce. 2020 brought on unprecedented experiences and challenges. Re-aligning business priorities, workforce, or both is an acute reality for many and the stakes are high. Powerful emotions are at play when your leadership is needed most. Through this virtual workshop you will:
Learn a framework for building your way back to stability.
Have access to objective data so you can confidently address critical business decisions fast.
Be ready to align your business strategy with your workforce by identifying priorities and sources of misalignment and strengths.
Gain alignment across the leadership team while raising awareness of each leader's style and strengths.
Be prepared to rebound quickly to take advantage of opportunities.
Note: To assist during the current COVID-19 impact, this virtual Leading through Change workshop is being offered at a discounted rate along with complementary leadership behavioral assessments.
Team Building Through Change
Team Building Through Change is ideal for leaders and teams looking to adapt to complex and sudden changes. 2020 brought on unprecedented challenges, yet you must find ways to lead teams to perform, do more with less and operate in an uncertain and unfamiliar environment. This virtual workshop uses actual data from participant's team member's behavioral profiles along with tools and methods to help leaders and managers to:
Analyze individual styles and team composition.
Discover how to adjust team dynamics and foster collaboration.
Engage team members for higher performance and accountability.
Relaunch and configure teams in times of change.
Note: To assist during the current COVID-19 impact, this virtual Team Building Through Change workshop is being offered for a limited time at discounted rates.
Building a Resilient Organization: What leaders need to do in challenging times to survive, stabilize and thrive again.
Every storm will pass. Yet it will be the leaders most agile and resilient that lead their organizations through each one. It's the work you do in the midst of the storm that will position your organization and its people to come through this, perhaps even stronger than before. This requires mobilizing people, making decisions despite uncertainty and keeping your own energy up to ride out each wave. This session will help leaders to:
Learn practices to remain resilient during difficult times.
Discover how to build resilient teams and people.
Avoid actions that may derail your business.
Identify ways to help your organization survive, stabilize and thrive again.
Leading High-Performance Virtual & Distributed Teams
The global 2020 pandemic accelerated remote work in ways that would have taken decades. Many of these workers will remain working virtually at least part of the time. Even those in office environments may be based in different locations. Perhaps now more than ever, leaders and managers must find ways to engage all staff, whether virtual or in person, to be accountable to produce results. This workshop is designed to help participants:
Understand different individual work styles and motivating needs.
Communicate with virtual staff to keep them connected with the rest of the team.
Encourage shared leadership where each person has accountability for team success.
Discover ways to measure results and promote high performance.
Build trust and empathy across the team.
Foster Thriving Cultures
This program is designed to shed light on your organization's cultural strengths and help you develop a collective vision for what your culture should be. Your audience will:
Create the plan to bring your vision to life
Discover how to tie the vision to the business strategy.
Understand how to communicate the vision and mission and get buy-in from each employee so they're engaged in the process and all moving toward the same common goal.
These are examples of workshops designed to build more effective leaders and managers and more engaged cultures. Programs can be tailored to meet the specific needs of your organization and many can be designed to be conducted virtually.
Predictive Index Workshops:
These workshops are designed specifically for clients who are utilizing the powerful insights of The Predictive Index to hire the right people, inspire them to engage and produce and to strengthen their leaders and managers. Learn more about Predictive Index and the power of Talent Optimization. Take a free PI Assessment using the link on the side bar of this web page and check it out for yourself. Ask about Virtual Instructor Led Programs via the web as alternatives to in person workshops.
Driving Results with Talent (two-day workshop or multiple virtual sessions)
In this program participants will cover the four aptitudes of talent optimization, learn how to utilize talent data insights to understand what drives employees, and apply The Predictive Index's data-driven hiring approach to build high-performing teams and a positive culture.
This program provides a deep understanding of the Predictive Index (PI) and Talent Optimization. Participants learn how to utilize talent data insights to understand what drives employees and how to apply PI's data-driven approach to hire the right people, build high-performing teams and foster a thriving culture. In our client group sessions, you will use actual PI reports from your leaders to discuss application and insights while you learn more about how to get the best from PI to propel your business and culture forward.
Managing People to Perform (one-day workshop or multiple virtual sessions)
This intensive training looks at PI first through the lens of self-awareness (what does the PI say about me?), then focuses outward (what does the PI say about my team?), giving managers tools to adapt to the individuals they work with to increase engagement and achieve results.
Contact us to create the culture & leadership your organization needs to thrive. Call (516) 637-6095 or e-mail drivenburgh@strategic-imperatives.com.